Dear Stader Fam,
Last week was tough for Web3. It was also a good reminder of how important decentralized governance and trustless systems is.That's why we've doubled down on our efforts at decentralization by unlocking governance on your SD tokens, and building resilient partnerships in the Defi space.
Highlights
Stader TVL at $123Mn with 25k+ active wallets
NearX on PembRock Finance: earn yields from Leverage Farming
Stader's decentralization roadmap has reached Phase 2! Tell us what you think about Stader's Governance Mechanism here.
New grand total of 36 DeFi integrations across all our 6 supported chains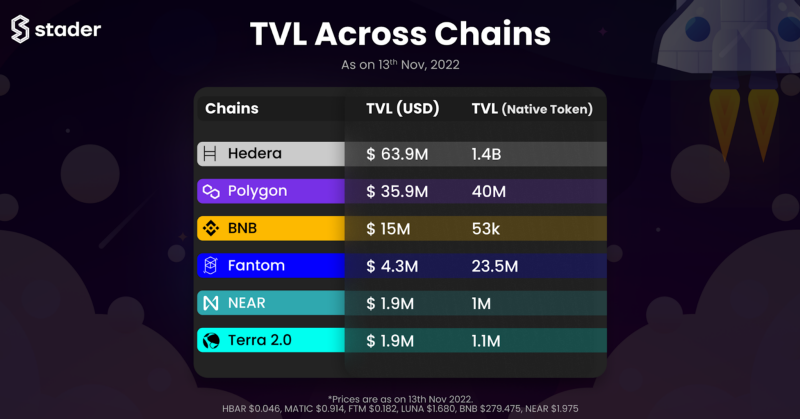 Top DEFI Opportunities across the Stader Ecosystem
Stader x BNB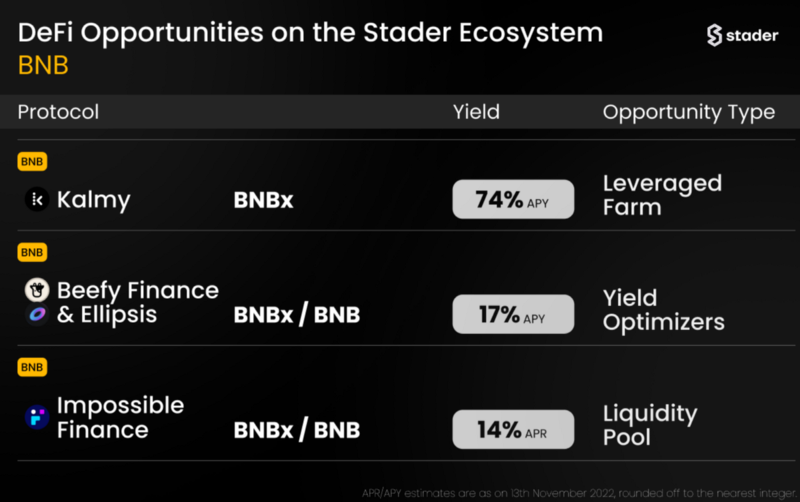 Use your $BNBx to maximize your yield
Top picks for the week:
Kalmy: 74% APR
Beefy & Ellipsis: 17% APY
Impossible Finance: 14% APR
Get higher yields here
Stader x Polygon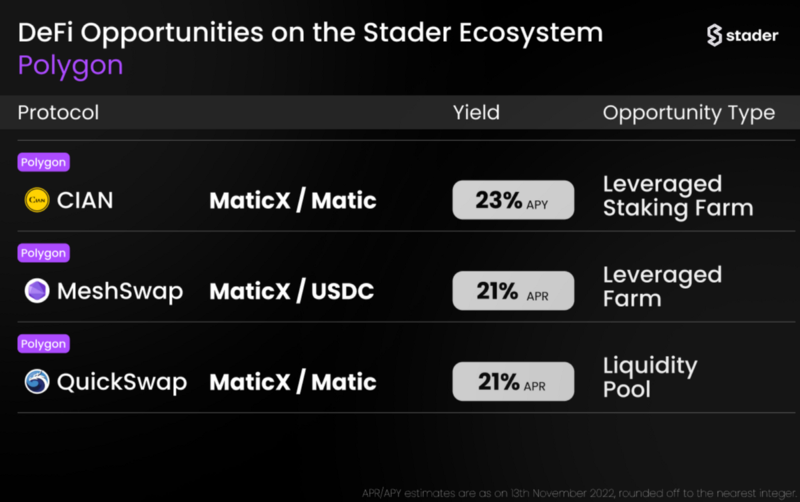 Catch profitable DeFi opportunities with $MaticX
Top picks for the week:
CIAN: 23% APY
Meshswap: 21% APR
Quickswap: 21% APY
Enjoy these high yields and more here
Stader x Hedera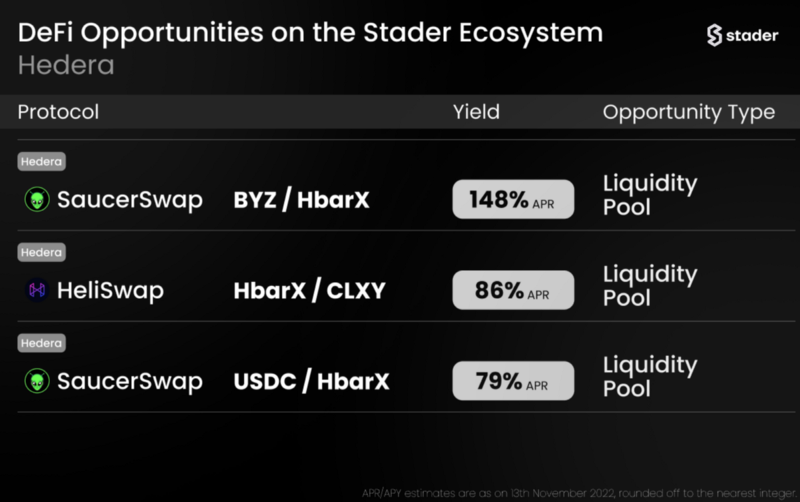 Use your $HBARx and earn sweet yields.
Top picks for the week:
Saucerswap: 148% APR
Heliswap: 86% APR
Saucerswap: 79% APR
Go and catch those high-yield rewards here
Stader x Fantom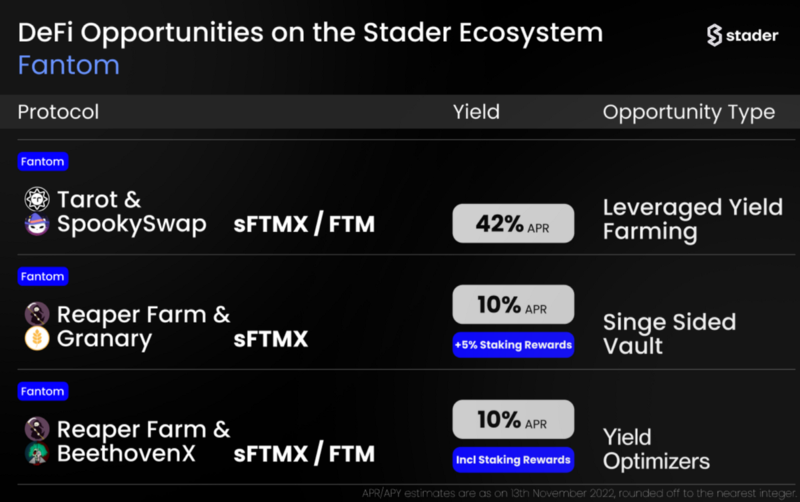 Maximize yields with minted $sFTMx.
Top picks for the week are:
Tarot & Spookyswap: 42% APR
Reaper Farm & Granary: 10% APR +5% Staking Rewards
Reaper Farm & BeethovenX: 10% APR (Incl. Staking Rewards)
Join now at here
Stader x Near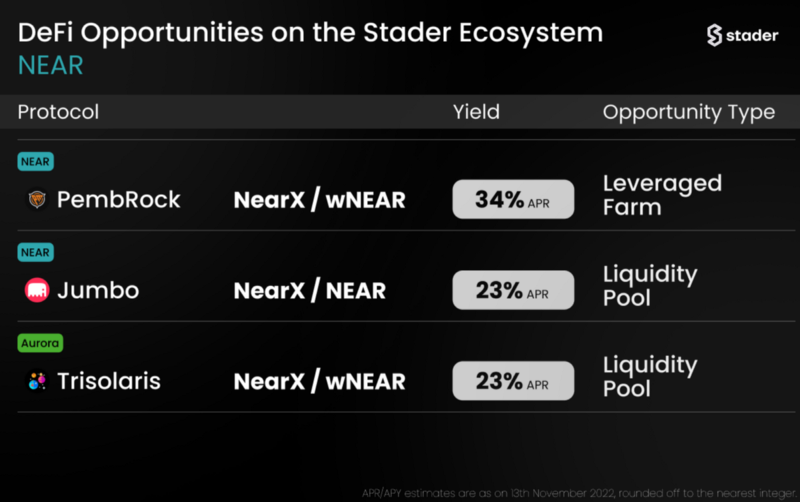 Use your $NearX & maximize your yield:
PembRock: 34% APR
Trisolaris: 23% APR
Jumbo.Exchange: 23% APR
Get higher yields here
SD Tokens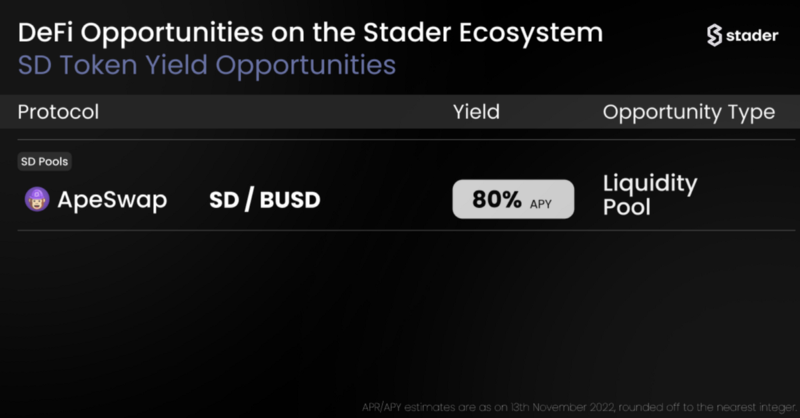 Trade Stader's SD token on top CEXs like OKX, Huobi, Gate.io along with top DEXs. Bit.com is the latest addition to this list.
Plus, earn extra yield using LPs like:
Stay tuned for more updates. We would love to hear your feedback and suggestions!