Highlights from the last week (ending 11th Sep) & top DeFi opportunities.
Dear Stader Fam,
In this weekly update, we take a look at the highlights and the top DeFi opportunities across the Stader ecosystem.
Top Highlights
TVL across Stader Dapps at ~$115M
Stader x Polygon: Crossed $35M in TVL
Security Boost: Stader BNB has partnered with Frota Network, facilitating early detection of security risks and threats
Stader x BNB Integrations LIVE this week: Coin98, SafePal (Wallets) and Open Leverage (Margin Trading Protocol)
Top DEFI Opportunities across the Stader Ecosystem
Stader x BNB
Maximize yields with minted $BNBx.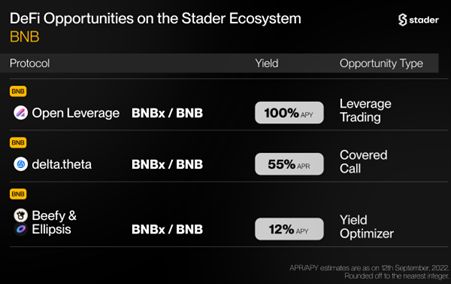 Top picks for the week are:
BNBx/BNB Leveraged Trading on Open Leverage : 100% APY
BNBx/BNB Covered Call on Delta Theta: 55% APR
BNBx/BNB Yield Optimizer on Beefy & Ellipsis: 12% APR
Get higher yields here
Stader x Polygon
Step into a whole new realm of #YieldFarming with minted $MaticX.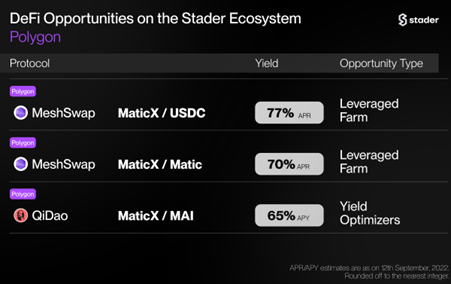 Top picks for the week are:
MaticX/USDC Leveraged Farm on Meshswap with a 77% APR
MaticX/WMATIC Leveraged Farm on Meshswap with a 70% APR
MaticX/MAI Yield Optimizers on QiDAO with a 65% APY (app.mai.finance/farm)
Enjoy these high yields and more here
Stader x Hedera
Use your $HBARx to earn higher yields on SaucerSwap Labs.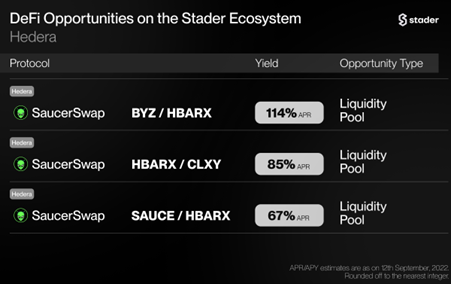 Top picks for the week are:
BYZ/HBARX LP: 114% APR
HBARX/CLXY LP: 85% APR
SAUCE/HBARX LP: 67% APR
Go and catch those high yield rewards here
Stader x Fantom
Maximize yields with minted $sFTMx.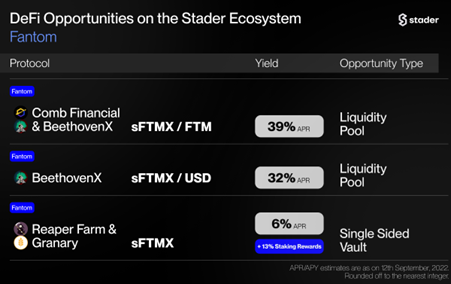 Top picks for the week are:
sFTMX / FTM LP on Comb Financial & BeethovenX: 39% APR (app.comb.financial/pools)
sFTMX / USD Yield Optimizer on BeethovenX: 32% APR
sFTMX Single Sided Vault on Reaper Farm & Granary: 6% +13% Staking Rewards
Tap into these opportunities at here
SD Tokens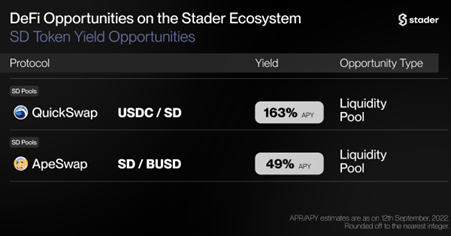 Stader's SD token is trading on top CEXs like OKX, Huobi, Gate.io along with top DEXs.
Use your SD token rewards to generate even more yield using LPs like:
Stay tuned for more updates. We would also love to hear your feedback and suggestions.