Dear Stader Fam,
We continued to hit even bigger milestones last fortnight! Here are the highlights, a sneak-peek into future products and the top Defi opportunities across the Stader ecosystem.
We hit a new high! TVL across Dapps is now at $146M+ with 22k+ users across 6 chains.
Stader is the fastest-growing liquid staking protocols — Nearly doubling TVL in 1 month, we are in the Top 5 for Liquid Staking Protocol by TVL on Messari. Check it out here
Stader x Polygon is live on AAVE: On top of Staking Rewards, MaticX can now be used as a collateral to borrow top tokens like BTC, ETH, Matic and more.
Razor-sharp focus on Security: We made large strides across chains with our security partners Forta, Certora, Immunefi and Prometheus.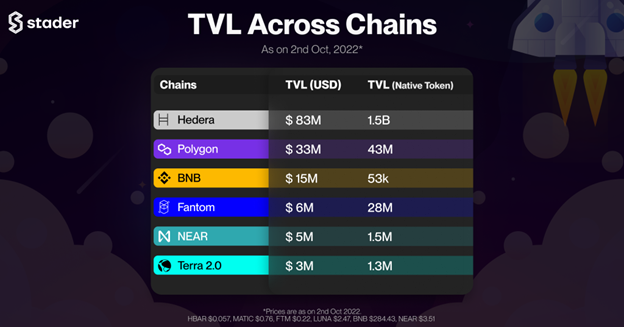 New milestones: We crossed ~1.4 Bn+ Hbar and 50k+ BNB staked on Stader
Regional Communities launched across China, Vietnam & Turkey
Top DEFI Opportunities across the Stader Ecosystem
Stader x BNB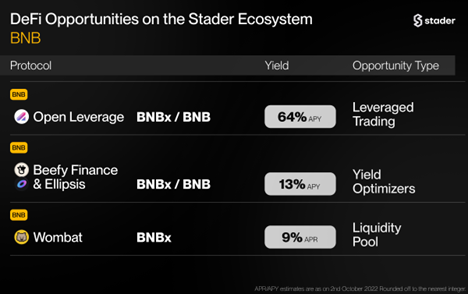 Use your $BNBx to maximize your yield
Top picks for the week:
Open Leverage: 64% APY
Beefy & Ellipsis: 13% APY
Wombat Exchange: 9% APR
Get higher yields here
Stader x Polygon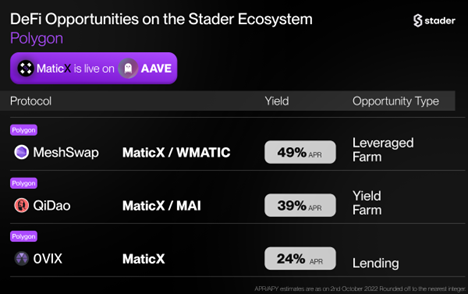 Catch profitable DeFi opportunities with $MaticX.
Top picks for the week:
MeshSwap: 49% APR
Qi Dao: 39% APR
0VIX: 24% APR
Enjoy these high yields and more here
Stader x Hedera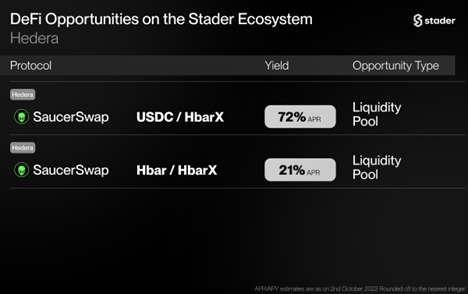 Use your $HBARx and earn sweet yields on SaucerSwap Labs.
Top picks for the week:
HbarX<>USDC: 72% APR
Hbar<>HbarX: 21% APR
Go and catch those high-yield rewards here
Stader x Fantom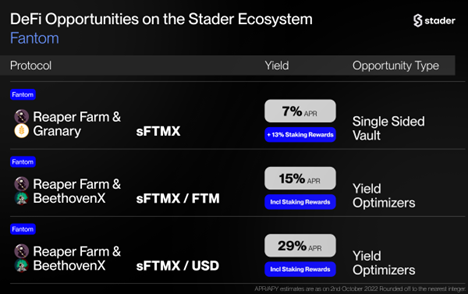 Maximize yields with minted $sFTMx.
Top picks for the week are:
Reaper Farm & Granary: 7% APR + 13% Staking Rewards
Reaper Farm & BeethovenX: 15% APR (Incl. Staking Rewards)
Reaper Farm & BeethovenX : 29% APR (Incl. Staking Rewards)
Join now here
Stader x Near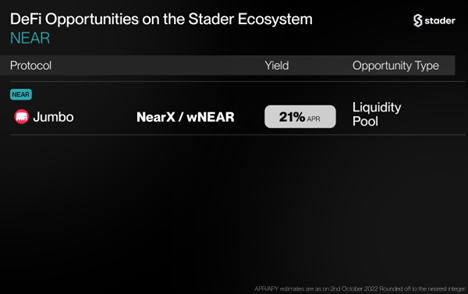 Use your $NearX & maximize your yield at:
Get higher yields here
SD Tokens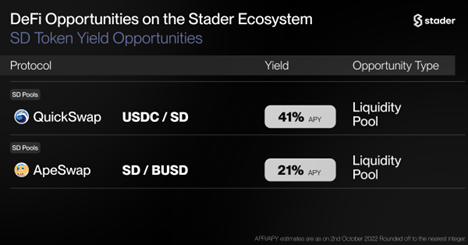 Trade Stader's SD token on top CEXs like OKX, Huobi, Gate.io along with top DEXs.
Plus, earn extra yield using LPs like:
Stay tuned for more updates. We would also love to hear your feedback and suggestions.