Dear Stader Fam,
This last fortnight week was all about strong integrations: New wallets, DeFi boosters and more. Have a look at the highlights:
Strong TVL at $150M+ (23k+ users)
LIVE with new Wallet Integrations:
KuCoin wallet on Stader x Polygon
Trust Wallet on Stader x BNB
3. Action-packed DeFi integrations:
Polysynth (DeFi Options Vault) on Stader x Polygon
Ref.finance (DeFi) & Spin (DeFi Trading Platform) on Stader x Near
HeliSwap (DEX) on Stader x Hedera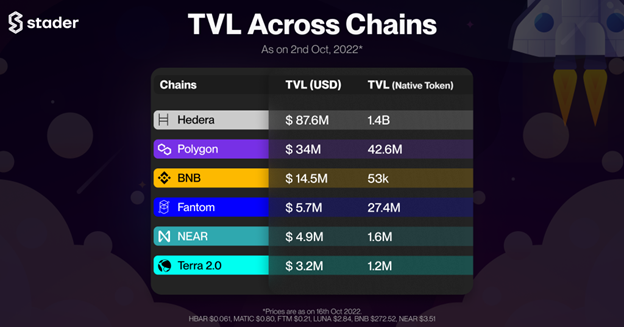 4. We launched Stader's Community governance forum with 2.6k+ visits in the first 7 days. Join the discussion here.
Now, the top Defi opportunities for you.
Top DEFI Opportunities across the Stader Ecosystem
Stader x BNB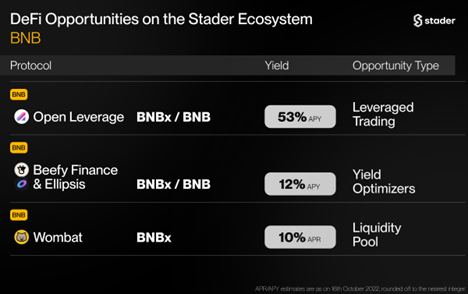 Use your $BNBx to maximize your yield
Top picks for the week:
Open Leverage: 53% APY
Beefy & Ellipsis: 12% APY
Wombat Exchange: 10% APR
Get higher yields here
Stader x Polygon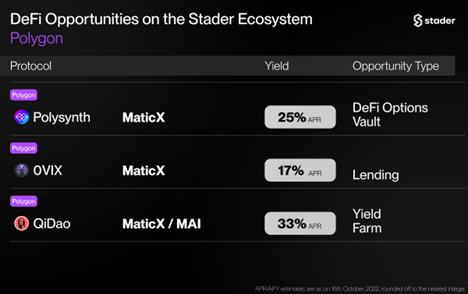 Catch profitable DeFi opportunities with $MaticX
Top picks for the week:
Polysynth: 25% APR
0VIX: 17% APR
QiDao: 33% APR
Enjoy these high yields and more here
Stader x Hedera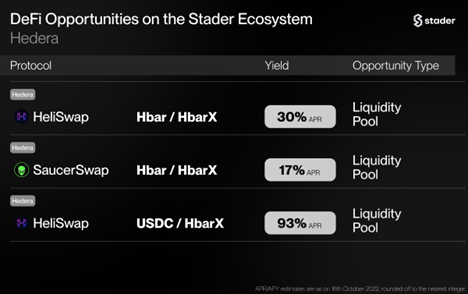 Use your $HBARx and earn sweet yields.
Top picks for the week:
HeliSwap: 30% APR
SaucerSwap: 17% APR
HeliSwap: 93% APR
Go and catch those high-yield rewards here
Stader x Fantom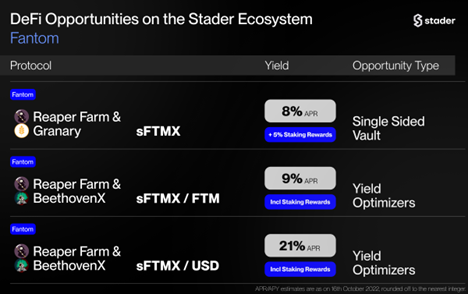 Maximize yields with minted $sFTMx.
Top picks for the week are:
Reaper Farm & Granary: 8% APR + 5% Staking Rewards
Reaper Farm & BeethovenX: 9% APR (Incl. Staking Rewards)
Reaper Farm & BeethovenX : 21% APR (Incl. Staking Rewards)
Join now here
Stader x Near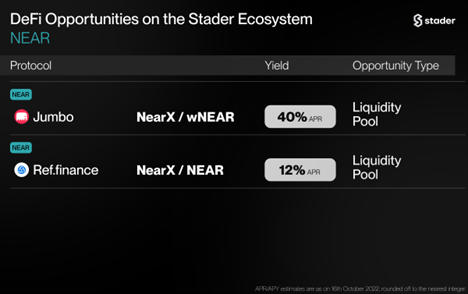 Use your $NearX & maximize your yield:
Jumbo.Exchange: 40% APR
Ref Finance: 12% APR
Get higher yields here at near.staderlabs.com
SD Tokens
Trade Stader's SD token on top CEXs like OKX, Huobi, Gate.io along with top DEXs.
Plus, earn extra yield using LPs like:
Stay tuned for more updates. We would also love to hear your feedback and suggestions.