The purpose of this post is to introduce Validator pools that will be introduced during Stader v1 Launch (Plain Staking). Additionally, we will also cover the criteria for selection of the pools and way forward.
Key Topics Covered
Introduction to Stader
What and Why of Validator Pools?
Stader v1 Validator Pools
Validator Pools Monitoring & Balancing
1. Introduction to Stader
Stader is a smart contract platform created to help stakers conveniently discover staking solutions and get access to the best yields based on their risk preference.
Stader is launching its first mainnet product Stader V1 on Terra with a Community Farming event on November 20th. (Details here)
Here's a look at the key features of Stader's V1:
Three validator pools — Blue Chip, Community & Airdrops Plus
Auto-compounding of staking rewards leading to 15–25% higher APY (during Community farming, Luna rewards will be swapped with SD tokens)
One-click airdrops claiming for Stader stakers enabling much lower transaction costs.
2. What and Why of Validator Pools?
A validator pool has a set of high performing (>99.85% uptime) validators carefully selected to ensure the best returns and minimise slashing. Each validator pool has a theme, based on which the validators are selected.
Validator pools minimize slashing risks and encourage network decentralization by spreading your stake across multiple high quality validators.
3. Stader v1 Validator Pools
In order to be a part of Stader's pools, validators need to meet threshold performance criteria set by the Stader team initially. We will let governance decide this over time.
Validators must have a >99.85% Uptime (Between 1st Oct'21 and 1st Nov'21)
Validators must not have any slashing event in the last three months (since 1st Aug'21)
Validators must have a Commission <= 10%
Only if they meet the criteria they are added to a pool based on the pool specific criteria.
Based on a community poll (700 responses) conducted on Twitter, we are going live with 3 pools. We will add more pools within a few weeks post launch.
Below are the specific details and criteria regarding the pools.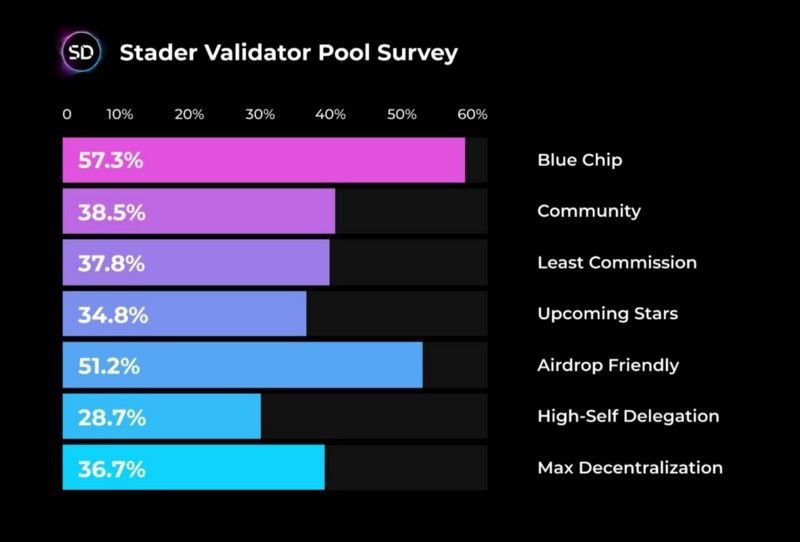 Blue Chip: Pool with validators with the most stable and highest performance. The pool has 5 validators at the time of launch.
Uptime > 99.90% (Top 5 by descending order selected)
Voting Power < 5% & > 1%
No slashing event in the last 3 months
Community: Pool with top 5 validators that make significant contributions to the Terra ecosystem.
Selected based on community poll on Twitter
Uptime > 99.85%
No slashing event in the last 3 months
Airdrop Plus: Pool optimized to receive airdrops with validators that provide genesis airdrops of their protocol tokens ($ORION $TALIS $NEPT). The pool has 3 validators at the time of launch.
Selected based on whether the validator provides their own protocol airdrops
Uptime > 99.85%
No slashing event in the last 3 months
4. Validator Pools Monitoring & Rebalancing
Stader monitors validator data on a real time basis with internal alerts & monitoring. In the event we notice that there is a performance / slashing risk on the validators, we proactively replace the validator and redelegate the stake across the rest of the validators in the pool.
Stader will do a validator review every two weeks to add new validators to the pools. We would also be adding more pools based on community feedback to drive decentralization across the Terra Network.
In the long run, Stader would select the validators programmatically based on performance filters. Additionally, as the Stader platform is decentralized, governance will determine validator selection criteria, policies, and so on.
— — — — — — — — — — — — — — — — — — — — — — — — — — — — — — — -
If you have any questions on the process of validator selection or pools, please reach out to us on amitg@staderlabs.com.