When we set out to build ETHx, our objective was twofold; to build for the community and to prioritize the health of the beacon chain. We recognize that both those things go hand in hand and contribute to the ultimate goal: Decentralization of Ethereum.
As we gear up for the launch of ETHx, we are thrilled to share our promise with the Ethereum community, what it means for us and how we plan to honor it. Introducing the ETHx Power Pledge.
ETHx Power Pledge
With ETHx, we pledge to keep Ethereum decentralized by building a liquid staking solution that is accessible, reliable and rewarding.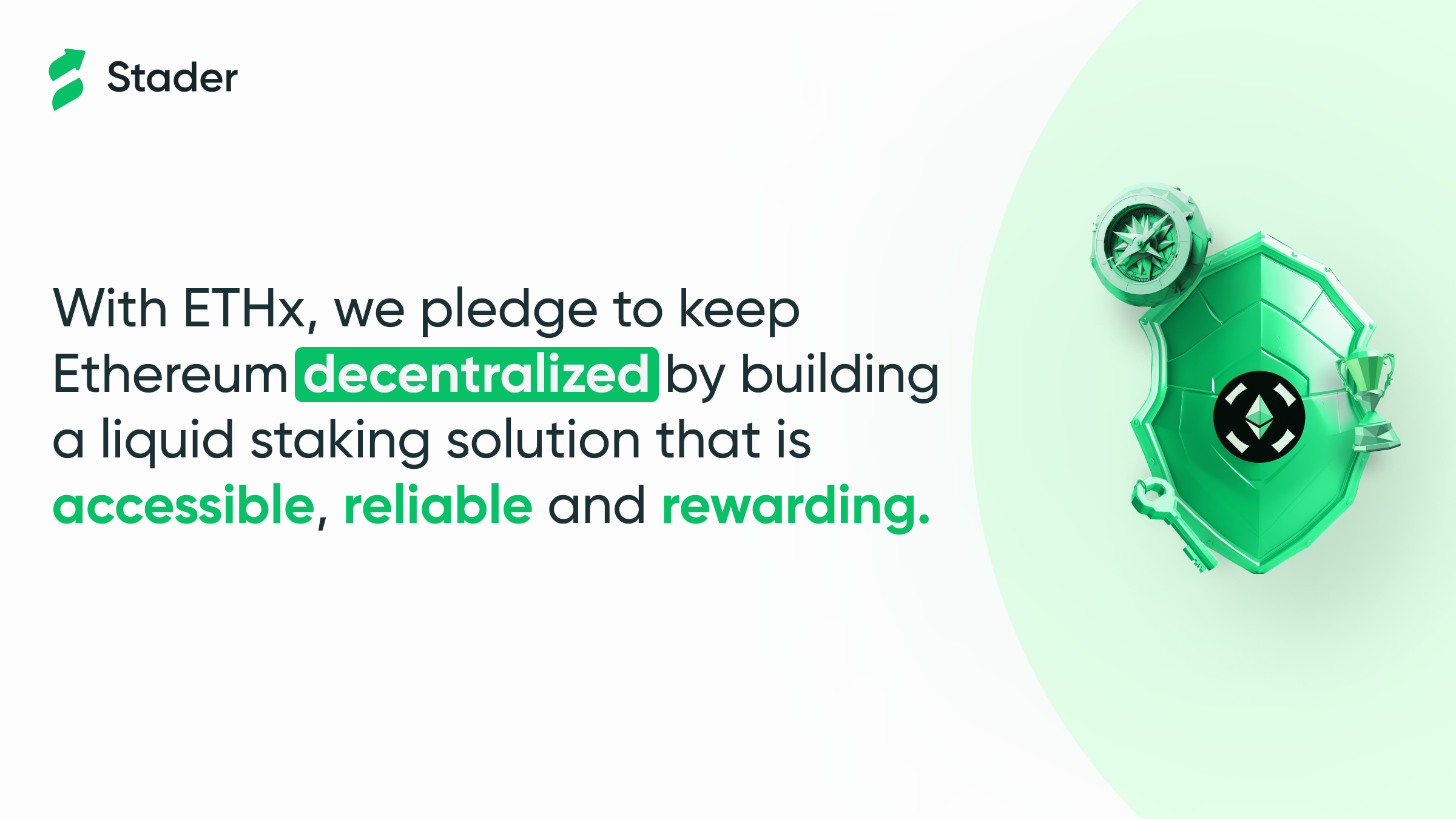 By focusing on these three pillars, we aim to empower the Ethereum community and help secure the network further.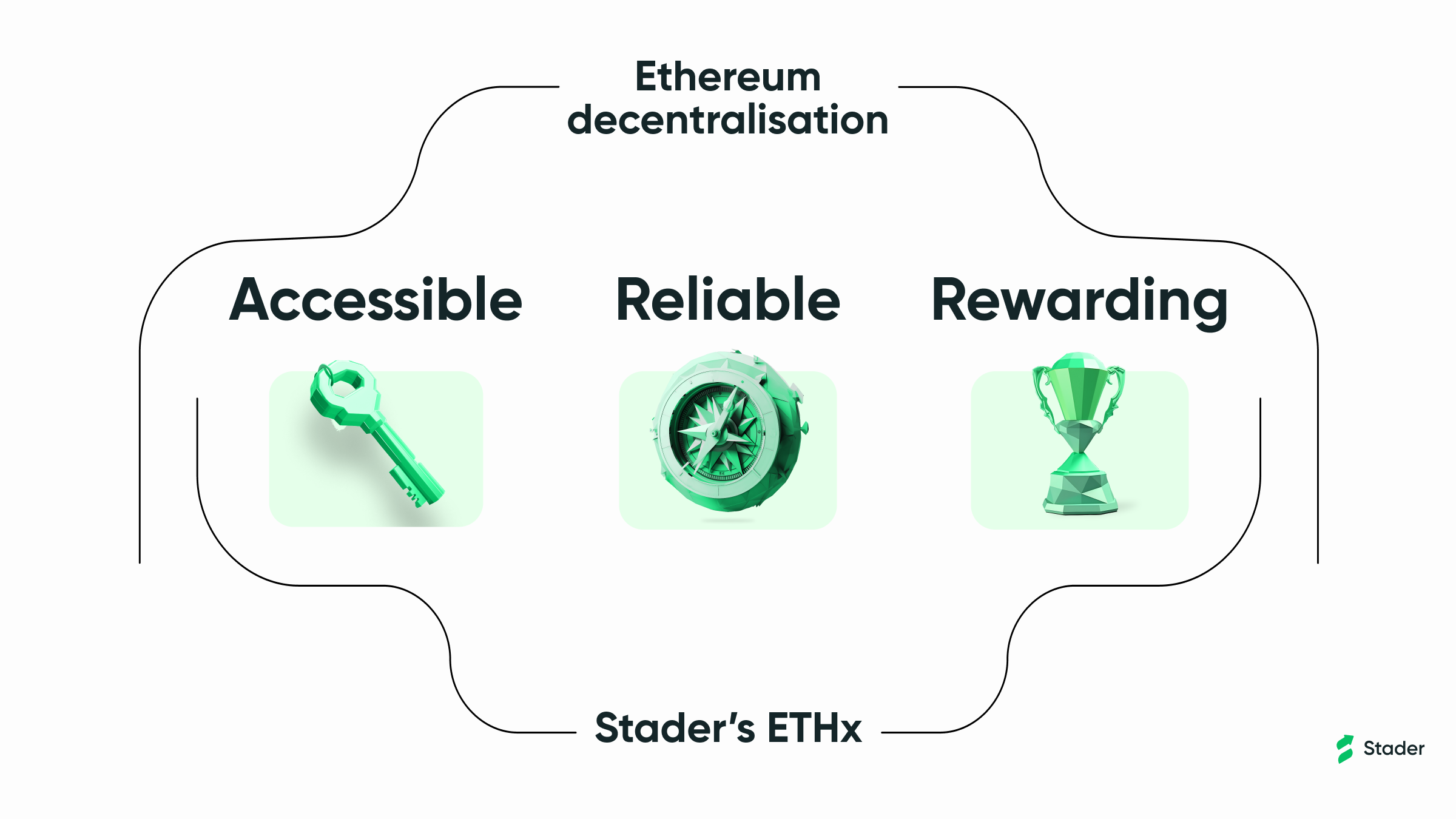 We seek to undertake this through the following initiatives.
Pledge for Decentralization
Ethereum needs a decentralized staking ecosystem that ensures a broader and healthier distribution of stake, reducing single points of failure.
We stand for a diverse and strong network of nodes that improves Ethereum's resilience to disruptions, enhancing its stability, scalability, and security.
At Stader, we want to commit to enabling a decentralized staking network on Ethereum, starting with:
Self-limiting to 22% of staked ETH
In order to promote a fair and balanced distribution of power amongst Ethereum staking solutions, Stader team is committing to a self-limitation of 22% of all staked ETH for ETHx.
Lowest capital requirement for Ethereum node operations
With ETHx, Stader is bringing the lowest capital requirement with a bond of just 4 ETH and 0.4 ETH of SD as collateral. This is 85% lower capital compared to solo staking and 50% lower to existing decentralized solutions. This will significantly lower the barrier to entry, thereby strengthening network decentralization. Going forward, Stader will strive to bring this requirement down even further through solutions such as DVT.
We will exemplify our Pledge for Decentralization by anchoring it on three key commitments.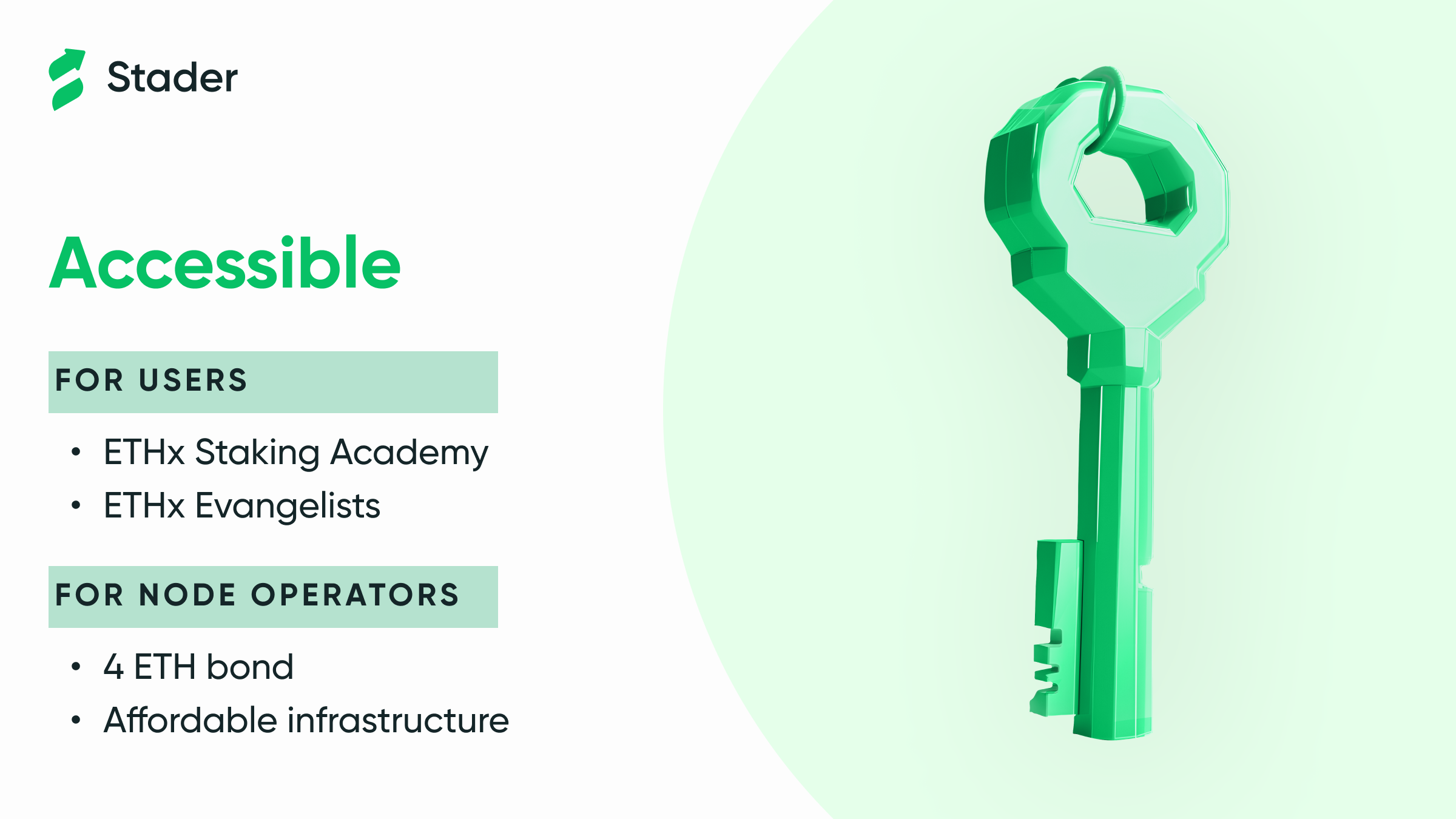 1. Commitment to being Accessible
Building a liquid staking solution on Ethereum that is accessible to node operators and stakers alike is crucial for the network's growth. By boosting accessibility, we seek to empower a wide group of people to participate and contribute to the ecosystem, showcasing that Ethereum is truly for everyone.

A. Accessibility for users:
To ensure that staking becomes an easy way for users to earn passive rewards, Stader will undertake the following initiatives:
ETHx Staking Academy: Live and recorded workshops to facilitate comprehensive learning across themes, from creating a wallet to staking. This will be complemented with multilingual DeFi Playbooks, allowing stakers worldwide to unlock these opportunities.
ETHx Evangelists: At Stader, we will recognize members who contribute to the ETHx staking community. This will include programs such as " ETHx Content Grant" for community educators and content creators.
B. Accessibility for node operators:
The three major challenges to accessibility for node operators are 'Capital to bond,' 'Technical expertise' and 'Operational costs.' Here's how we'll address the same:
4 ETH bond: We are bringing the lowest capital requirement of 4 ETH and 0.4 ETH worth of SD as collateral, lowering barriers to entry like never before.
Affordable infrastructure: We know that the cost of running a node can be overwhelming. This is why Stader has partnered with players such as Allnodes and Avado to bring the most cost-effective infra for ETHx. Additionally, the 'ETHx Node School' will facilitate onboarding of aspiring node operators via live workshops and multilingual guides/FAQs.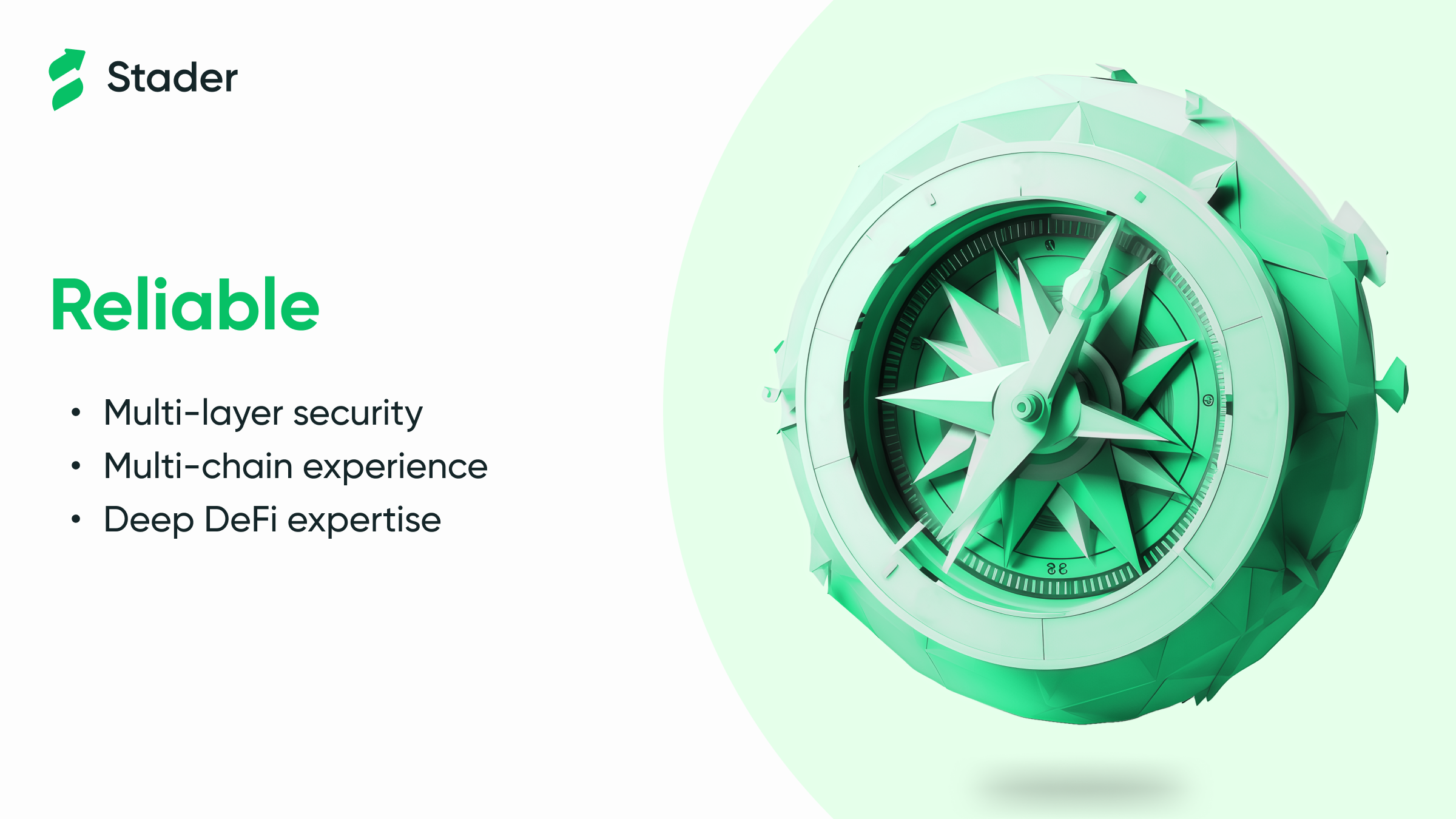 2. Commitment to being Reliable
At Stader, we are committed to building a solution our community can trust and rely on. Our proof-of-work in building across 6 chains, incredible partners and fully doxxed team is just the start. We take security seriously and are ensuring ETHx is heavily audited.
A. Multi-layer security:
Multiple audits by leading cyber security firms, with a roadmap for bug bounties and on-chain monitoring. All final audit reports will be published once the audits conclude. Our current audit partners are:
Once ETHx goes live, here are the additional security measures that will be implemented:
$1M Immunefi bug bounty
Forta on-chain monitoring
B. Multi-chain experience:
Since our launch in 2021, Stader has been among the top 3 players across its 6 PoS blockchains, including EVM chains such as Polygon, BNB & Fantom
We've undertaken 14 audits across 7 chains with 7 security partners, underlining our emphasis on security even further.
With 70k+ users and $100Mn+ in TVL, we're thrilled to extend this to our 7th chain, Ethereum.
C. Deep DeFi expertise:
Stader's LSTs have successfully integrated with 40+ DeFi partners across chains, including AAVE, Balancer, QiDAO, Quickswap, Apeswap, BeethovenX and more.
Users can also stake their BNB and MATIC with Stader directly from Ledger Live.
This expertise will be leveraged for ETHx, powering up its utility to the fullest.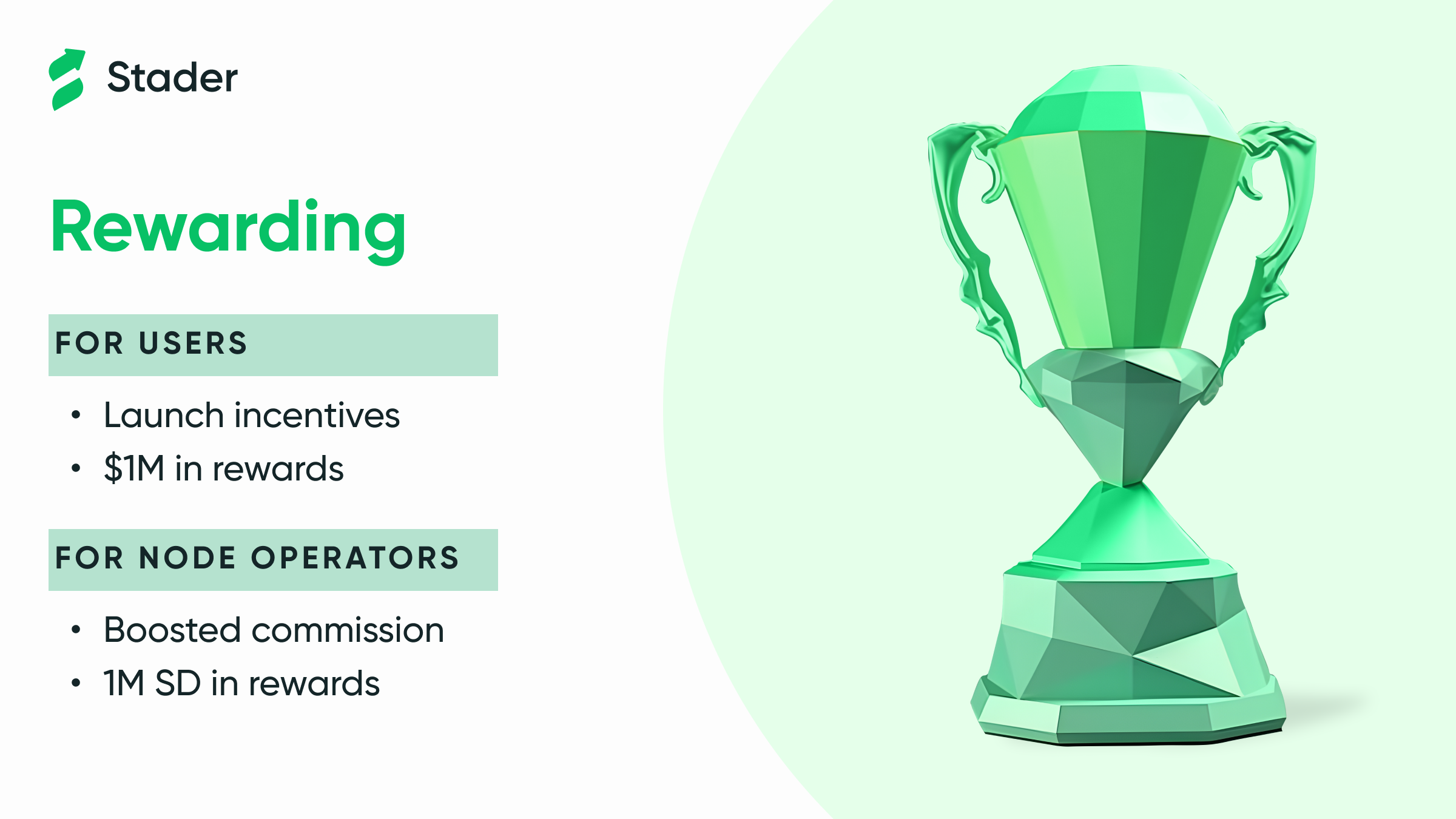 3. Commitment to being Rewarding
We believe that being active members of the Ethereum network should be rewarding for both node operators and users. To encourage participation and reward our community, we have designed and implemented several programs.
A. ETHx users and supporters:
Launch incentives: As an early adopter, users and DAO members who stake with us during the launch month can earn upto 2x staking yield on their ETH for the first 90 days of launch.
$1M in rewards: With 40+ DeFi integrations across 6 PoS blockchains, Stader is committed to building the best of DeFi utility for ETHx. Additionally, $1M in SD rewards (subject to DAO governance voting) has been set aside for users.
B. ETHx node operators:
Boosted commission: ETHx node operators who join us in the launch month will earn upto 50% commission boost on their active validators for the whole year (T&C applied).
1M SD in rewards: Stader is also allocating upto 1M SD in rewards (subject to DAO governance voting) for Ethereum node operators. Check out our rewards calculator to simulate how much rewards you stand to receive as an ETHx node operator.
At Stader, we're thrilled to be designing ETHx to decentralize Ethereum liquid staking even further, empowering all stakers alike with a more inclusive and community-powered solution.
As we move further along, we'll strive to constantly innovate and contribute to our pledge in ways that are meaningful to the ecosystem.
For now, get ready for ETHx to unlock a new world of possibilities for the community.
If you have any questions/thoughts, please reach out to us on Twitter, Discord or Telegram.
Join the ETHx alpha list today and be the first to access $1M in rewards.