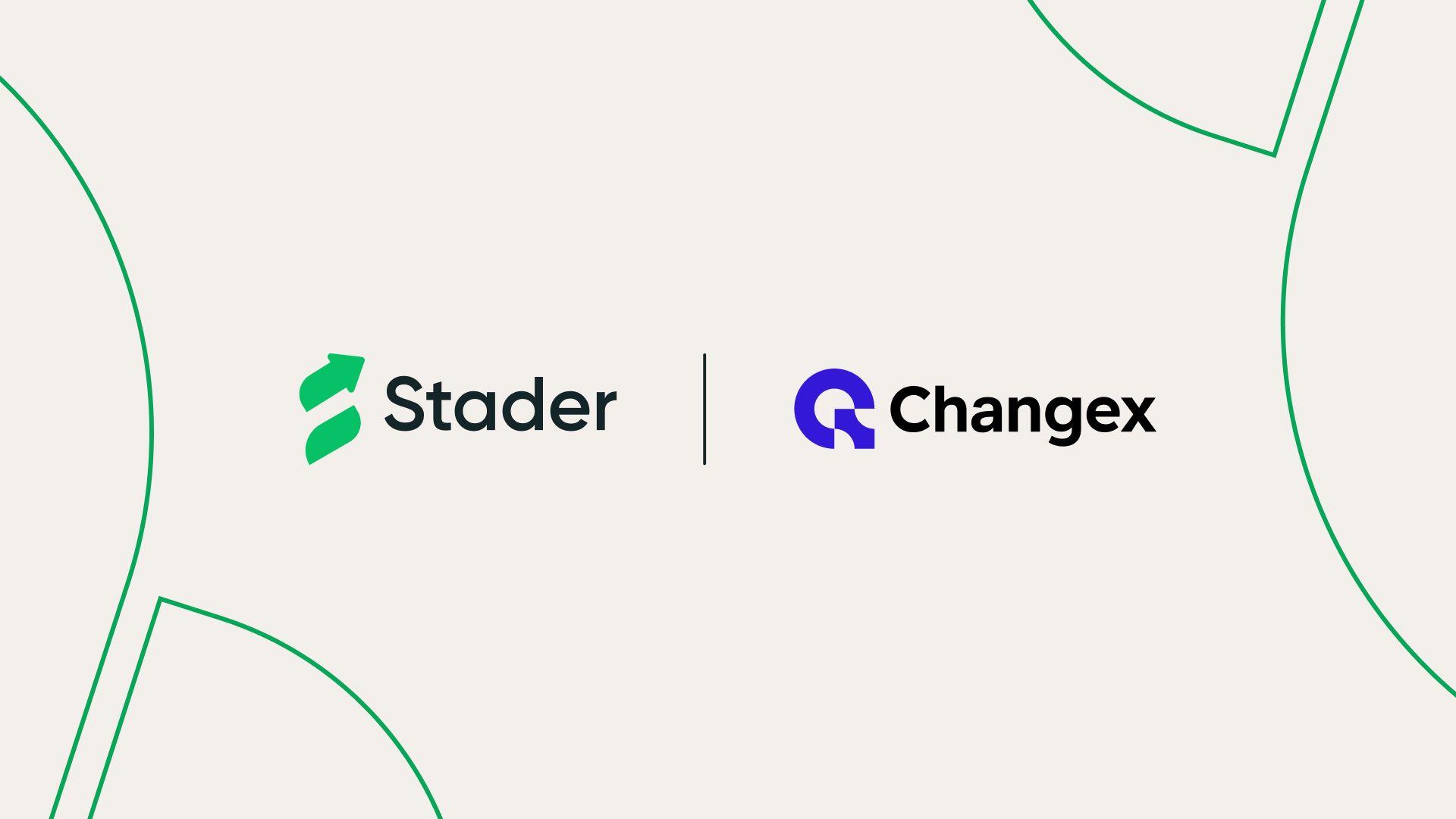 Attention all MATIC stakers: Changex partners with Stader to offer up to 7% APY on liquid staking
In an exciting development for MATIC stakers, Changex has partnered with Stader Labs to introduce liquid staking for MATIC inside a fully non-custodial wallet!
With an APY of 6.72% by the end of May - one of the highest in DeFi - Changex offers a cutting edge advantage to MATIC stakers, as no other outlet provides such rewards.
Our good friends at Stader Labs invited us to provide some more information on Changex and our MATIC staking pool, so here we are.
Introducing Changex: fiat banking in a DeFi wallet
Changex is developing a fully non-custodial wallet with unmatched functionalities normally seen on centralized exchanges.
Designed to provide you with a secure and intuitive platform where you can manage your digital assets, Changex is also on its way to integrate fully-operational fiat banking in the wallet.
This allows you to receive your salary in the wallet, buy your MATIC with fiat directly, sell it for fiat, or spend it anywhere via the Changex crypto debit card. All without ever switching apps.
This marks the end of transfers, app-juggling, waiting times, and complicated operations, turning Changex into an all-in-one financial solution. Fiat banking is set to arrive in Q2 2023!
A proper DeFi hub for pros and newcomers
Beyond its role as a crypto-friendly bank and highly secure wallet, Changex also incorporates a comprehensive suite of DeFi services, making it an accessible option for passive income generation.
Simplifying access to staking is one of the team's main focal points.
By having virtually endless room for the addition of new staking pools, Changex acts as a one-stop staking shop, offering you a simple solution to stake while staying in control, and with APYs that no other provider offers.
This is because all new staking pools in Changex are boosted, increasing the APY of the asset in time-limited campaigns. The mechanism is explained in our whitepaper.
To top it off, the team is working on a unique Leveraged Staking mechanism, which lets you stake up to 2x more than what you own in POS assets. This works with any coin or token, including MATIC.
We're also working on adding stablecoin lending, and a special stablecoin earn product, which will offer a safe passive income option for more conservative or non-crypto native investors. The wallet's user-friendly interface enables both the seasoned and the newcomers to seamlessly navigate the world of DeFi.
Crypto Debit Card: Using crypto in real life
In addition to the unique roster of DeFi and crypto-friendly banking services, Changex's crypto debit card enables you to spend your crypto in the real world. By bridging the gap between traditional payment systems and the decentralized world, this feature brings unprecedented functionality and convenience.
Whether you want to make online purchases, pay bills, or withdraw cash from ATMs, the Changex crypto debit card makes it possible to utilize your digital assets in a seamless and secure manner.
Liquid Staking via the MATICX Token
By partnering with Stader Labs, Changex is now offering liquid staking for MATIC. The APY of 6.72% is currently the highest in DeFi and will be available by the end of May. From then on, the APY will drop to 4.72%.
Liquid staking in Changex allows you to stake your MATIC tokens while still being able to use them. When you stake MATIC, you receive an equivalent amount of MATICX tokens - these represent your original MATIC. The MATICX tokens are not locked in staking, and can therefore be used freely around the crypto ecosystem. This offers unparalleled freedom and flexibility, and the best part is you stay fully decentralized and at the forefront of DeFi while doing it.
Staking MATIC in Changex is a breeze.
Then, create your wallet and follow the instructions to back it up.
Send some MATIC over, OR
Stake your MATIC and get your MATICX tokens.
Use your MATICX freely.
Changex's partnership with Stader Labs marks a significant milestone in the world of DeFi, bringing liquid staking for MATIC to the forefront of decentralization. By offering the highest APY for MATIC currently available, Changex and Stader empower users to unlock passive income potential while maintaining the liquidity of their assets, in search of better outcomes and better personal finance.
Author - Nino Chanev