Dear Stader Fam,
Hope you had a power-packed week like we did! Here's a look at the highlights and the top DeFi opportunities across the Stader ecosystem.
Highlights
Stader TVL at $156Mn with 24k+ active wallets
Stader has partnered with InsurAce.io Protocol, a leading decentralized risk protection protocol
Stader x Near: LIVE on Aurora, a powerful Ethereum smart contracts executioner on the Near blockchain.
LIVE with new Wallet Integrations : Trust Wallet & Coin98 Super App on Stader x Polygon, and ONTO Wallet on Stader x BNB
Unlock new DeFi gains with the latest integration on Stader x BNB with Impossible Finance
Top DEFI Opportunities across the Stader Ecosystem
Stader x BNB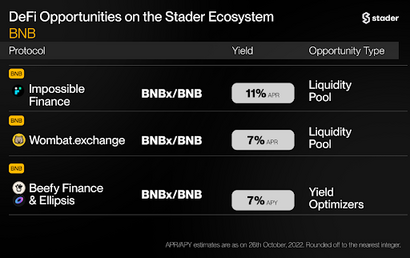 Use your $BNBx to maximize your yield
Top picks for the week:
Impossible Finance: 11% APR
Wombat Exchange: 7% APR
Beefy & Ellipsis: 7% APY
Get higher yields here
Stader x Polygon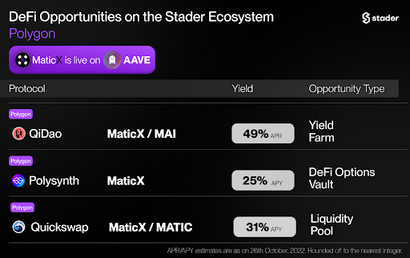 Catch profitable DeFi opportunities with $MaticX
Top picks for the week:
QiDAO: 49% APR
PolySynth: 25% APY
Quickswap: 31% APY
Enjoy these high yields and more here
Stader x Hedera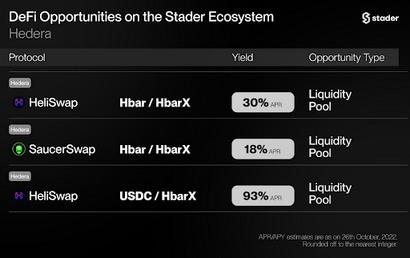 Use your $HBARx and earn sweet yields.
Top picks for the week:
Top picks for the week:
HeliSwap: 30% APR
SaucerSwap: 18% APR
HeliSwap: 93% APR
Go and catch those high-yield rewards here
Stader x Fantom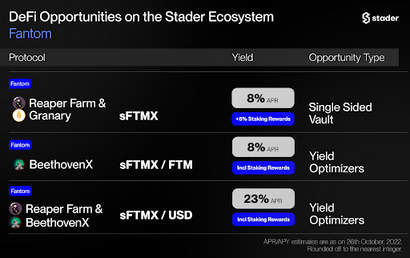 Maximize yields with minted $sFTMx.
Top picks for the week are:
Reaper Farm & Granary: 8% APR + 5% Staking Rewards
BeethovenX: 8% APR (Incl. Staking Rewards)
Reaper Farm & BeethovenX : 23% APR (Incl. Staking Rewards)
Join now here
Stader x Near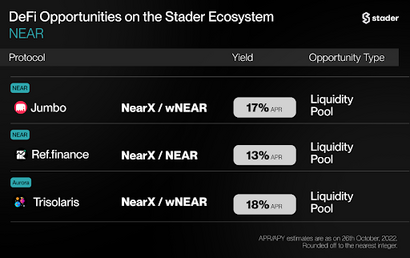 Use your $NearX & maximize your yield:
Jumbo.Exchange: 17% APR
Ref Finance: 13% APR
Trisolaris: 18% APR
Get higher yields here
SD Tokens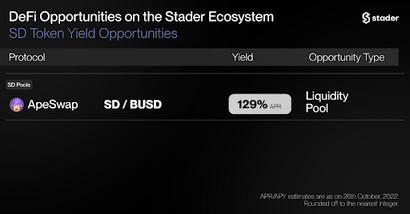 Trade Stader's SD token on top CEXs like OKX, Huobi, Gate.io along with top DEXs.
Plus, earn extra yield using LPs like:
Stay tuned for more updates. We would love to hear your feedback and suggestions!