Stader is excited to announce the release of ourLitepaper. Here's a brief summary of the Litepaper and a quick look at Stader's plans over the next few months.
Summary:
The market capitalization of Proof-of-Stake (PoS) coins is at $325 billion (USD). In comparison to Poof-of-Work (PoW), PoS has numerous advantages which position it to grow many fold.
Across PoS blockchains, the three main stakeholders face several challenges:
PoS networks face stake-centralization issues.
Delegators face complexity surrounding discovery and stake management.
Node Operators struggle to get the right visibility and delegations.
While solving the above challenges is paramount for the PoS ecosystems, there are several multi-billion dollar opportunities on top of staking in the short to mid-term including:
L1 tokens safely staked and strategies like Launchpads, DeFi, etc. built with staking rewards.
Liquid staking and its associated DeFi possibilities.
Gaming powered by staking rewards.
Customized staking for Institutions, VCs, Crypto Exchanges and Fintech firms.
Stader is building the key staking middleware infrastructure layer for multiple PoS networks that will power the above staking-related opportunities while solving the key challenges. We are taking an extremely modular approach to building our contracts so third-parties can leverage our components to build several staking solutions on top of it.
In the short term, Stader is building native staking smart contracts across multiple chains including Terra, Solana, among others, and building an economic ecosystem to grow and develop solutions like YFI-style farming with rewards, launchpads, gaming with rewards, liquid staking solutions, and more.
In the long-term, Stader is focused on unlocking the platform approach and nurturing third parties to develop several staking-related applications on top of the Stader infrastructure.
The Stader token (SD) is the native governance and value accrual token for Stader. SD token holders will directly benefit from the success of Stader, as revenue generated through different economic models gets accrued to the SD token as elected by the governance holders.
Several notable venture funds, blockchains and angel investors have supported Stader in the journey so far.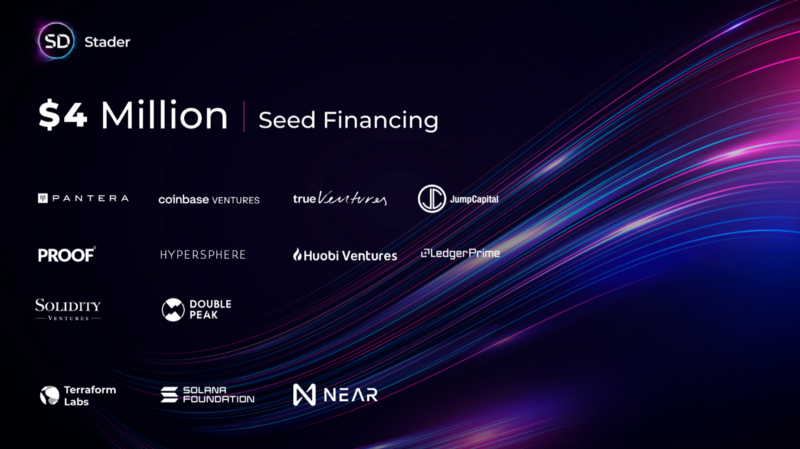 Link to the full Litepaper here.
Stader V1 Terra Launch
Stader v1 is expected to launch mid-November with several features to add convenience to Luna delegators. Here is a look at the key features of Stader's V1:
Multiple (4–5) validator pools for delegators to minimise slashing risks and encourage network decentralization.
Auto-compounding of rewards (conversion of stablecoins to LUNA and restaking) leading to 15–25% higher APY.
One-click airdrops claiming for Stader stakers enabling much lower transaction costs.
How can you participate in the V1 Launch?
Stader V1 will be launched with a community farming event. We will reserve a percentage of the total SD token supply for community farming.
More details regarding community farming will be shared soon on our social channels. (Twitter, Telegram)
Stader V2 Roadmap
We plan to launch a liquid staking token on the staked LUNA and add multiple ecosystem integrations to power strategies on top of staking rewards and airdrops.
Key features going live in Stader V2:
Liquid staking token: A liquid staking token that enables instant unlocking of staked Luna along with accumulation of rewards, airdrops. Leverage the liquid token on DeFi protocols, LPs on DEX.
DeFi strategies: Integrations with one Launchpad and one DeFi protocol on Terra to amplify staking APYs.
Gaming integrations: Integrations with at least 1 gaming protocol powered by staking rewards.
Timelines for the v2 launch will be shared soon. Participants of v1 will get access to most features of v2 as well.
Long-term Opportunities
Stader aims to integrate with the top 7–10 PoS blockchains over the next 1–2 years. In the long term, there are several multi-billion dollar opportunities and markets Stader can explore:
Institutional-grade customized staking products.
API layer to connect mainstream fintech applications.
Staking infrastructure for upcoming blockchains.
Investment grade products like staking ETFs built leveraging native Stader vaults.
And many more…
We invite you to further dive deep into our Litepaper, share your thoughts and feedback on amitg@staderlabs.com.
In the Litepaper, we have covered more details across the below areas:
Background: Provides an overview of our outlook on the staking industry over the next few years, the challenges faced by the key ecosystem stakeholders and the opportunities in the staking space.
Introducing Stader: We discuss our vision, how we got started on the staking journey and what we want to achieve with Stader.
Stader's Modular Approach: Explore staking infrastructure of the future, a key technical design concept that makes Stader extremely powerful, allowing anyone to use Stader's pre-existing components to build their own staking solutions.
Roadmap: Learn about the product roadmap, features we are working on and the launch details.
Tokenomics: All about the SD token distribution, utility, and value accrual.
Long-term Opportunities: A look at the big opportunities that lie ahead.
Link to the Litepaper here.