Stader Labs has always put our community and users first. Our community has always had the best interest of the protocol and supported Stader all along. We believe it is the right time to further unlock the power of the Stader family by giving decision making & governance control, and putting Stader on the path to decentralization.
Stader's Journey
We launched our first smart contracts on Terra 1.0 in Nov'22 and had an incredible success achieving USD 1 Bn+ TVL locked on Stader contracts. After amazing growth on Terra, we have expanded to 5 more blockchains including Polygon, BNB, Hedera, Fantom and Near. Despite Terra crash, Stader currently has over USD 100 M+ TVL, 20+ DeFi integrations and over USD 1.3 M+ annual revenue rate. And our community across the blockchains has grown to over 150k.
Despite the market conditions, we have set ambitious expansion plans for Stader Labs as we dream of onboarding 1 bn+ users to staking. We envision growth for Stader across 3 key areas:
Grow current chains with further integrations, building vaults and new products that utilize liquid staking tokens to simplify, automate yield strategies
Expansion to ETH and other EVM chains
Expansion to new blockchains including Aptos, top Cosmos chains etc.
Detailed blog about the next 6 months' roadmap will be shared soon. Primary purpose of this piece is to outline our path to decentralization.
Path to Community governance
We have always consulted our community across chains regarding key decisions/ strategies, e.g. what vaults to build, which integrations to prioritize etc. The Stader platform now has thousands of community members across six chains, and it is the appropriate time to give them the right to participate in the decision making and governance of the Stader protocol.
So, how do we get there? We will take a phased approach to decentralization as we believe our community is quite diverse and spread across several geographies. Here is a brief outline of the key stages of decentralization: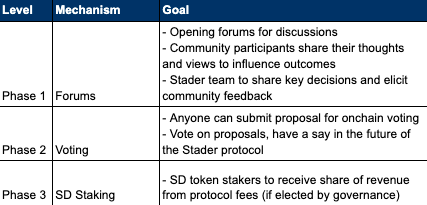 Immediate launch and Timelines:
Governance forums will go live immediately on Stader Labs' website. The community and team can participate in discussions on key areas of decision making. Voting on proposals etc. is expected to go live in Oct'22 followed by SD token staking.

*Smart contract beta testing ongoing. Timelines may vary based on test outcome.
Stader's Community Governance Forum is live!
Phase 1 has already begun with Stader's Community Governance Forum going live today!
Our first topic is key to Stader's growth: What are the chains Stader should expand to next?
We encourage all community members to share their thoughts on this topic that will have a far-reaching impact on the future of Stader. Sign up on the forum here and get started!