Now that Stader's capped launch for its liquid staking solution for $Matic holders is live, here's a summary of everything you need to know. In this guide we will cover:
Where can you stake your Matic?
How to use the Stader dApp?
Security with Stader
How do we choose our validators?
How does Stader make money?
Where can you stake your Matic?
Polygon's staking protocol is native to Ethereum, so v1 of the Stader Polygon Staking launch only supports staking on Ethereum.
You will be able to stake Matic directly on Polygon in v2.
Meanwhile, you can also swap your Matic for MaticX directly on top DEXs like Balancer and Quickswap on the Polygon Mainnet. These liquidity pools will be going live a week or so after the capped launch.
Please note, that this also implies that in v1 once you mint MaticX, you will need to bridge the MaticX token over to use it on the Polygon Mainnet. We are working on making MaticX directly available on the Polygon Mainnet as part of v2.
How to use the Stader dApp?
To start your staking journey, access the dApp here
Step 1:
Click the 'Connect Wallet' button on the top.
Do note that in v1 all staking for Polygon happens only on the Ethereum Mainnet — so be sure to switch to that network in your wallet.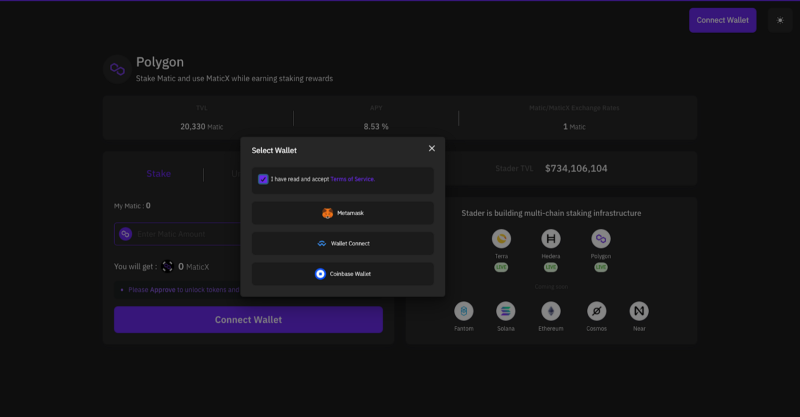 Step 2:
For the first time you stake with us, you'll need to approve your Matic tokens for staking before you can start by clicking on the Approve Staking button.
After approving, enter the amount of $Matic you want to stake with Stader. Once decided click on the "Stake MATIC" button. You can also view the amount of $MaticX you'll receive in return on this screen.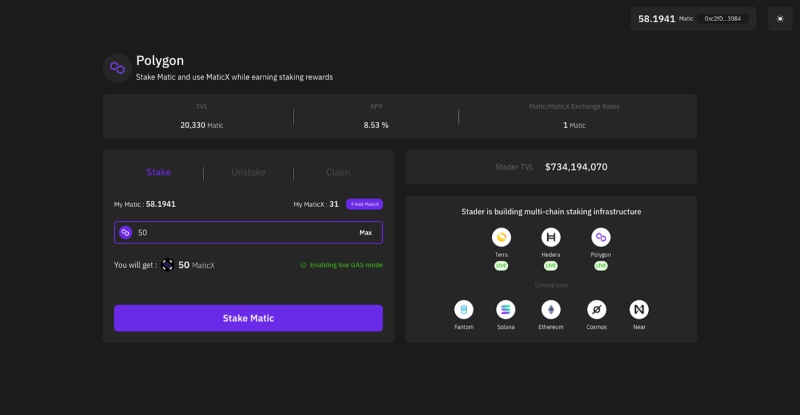 That's all. Once successful you should see the confirmation screen.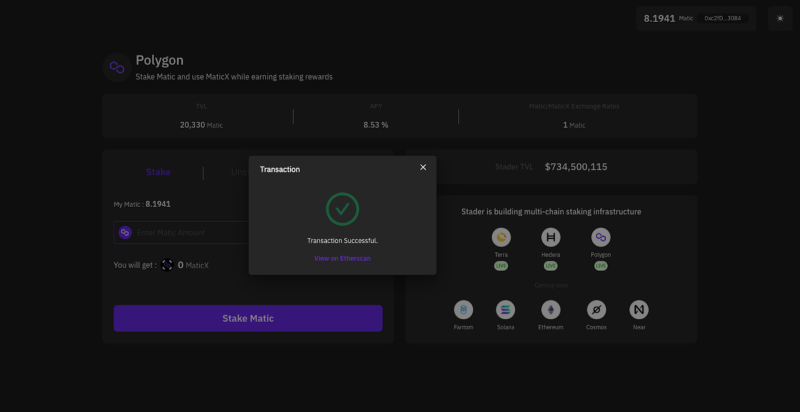 Security with Stader
At Stader, your asset security is paramount for us. That's why we are going through 2 audits with top audit firms to ensure the safety of our smart contracts. We've addressed the issues raised in the initial reports. The final reports are due in a few days, in time for our uncapped launch.
How do we choose our validators?
We've carefully evaluated and selected the validators we will be working with. We've looked at the following criteria in choosing the validators we work with:
1 — Performance and safety
It is essential to us that any validator we work with is in the top percentile of performance. We are only going to work with validators with a 100% sign rate on the last 200 checkpoints and a greater than 98% sign rate on the last 90 day's checkpoints.
2 — Decentralization
We're on a mission to promote decentralization in PoS networks. To further increase decentralization and promote smaller validators, we've chosen to work with validators who have less than 1 % of total staked amount.
For context, of the 100 validators on Polygon currently, the top 6 account for more than 50% of the staked Matic.
3 — Competitive Commission
In order to ensure the highest APYs for our users, we've selected validators who's commission are less than or equal to 5%.
How does Stader make money?
Stader will charge a protocol fee of 10% of the rewards added to the contract. Please note that this fee applies only to your staking rewards/earnings and is not taken from your staked amount.
We use this fee for upgrading our infrastructure to develop quality products for our users.