Hi HBARbarians!
Thank you for your amazing support for @stader_Hbar, together we have achieved amazing numbers ~650mn HBAR staked across 83K transactions by 11k+ accounts. This has clearly proven that, given the right product, our HBARbarian community can power incredible growth for DeFi on Hedera.
The demand bootstrapping phase of liquid staking is now over, by July 31 ~70mn HBAR in rewards would have been distributed to early adopters. We now embark on a new phase of this journey with some big changes on the way
We are moving to a more modern and DeFi-focused user interface on our dApp. You can participate in the Beta through this link
New DEXs are coming to Hedera which will have prominent pools with HBARX, giving our users the opportunity to earn extra yield by providing liquidity
Stader will integrate with protocol staking and rewards for HBARX will flow from protocol staking as well.
As we prepare for this transition we will slowly reduce the emission rate to flow into a stable value, depending on the TVL and yields on protocol staking. More specifically, starting from Aug 1 the emission rate will be 600,000 HBAR per epoch (one day) and this will be reduced by 25,000 HBAR every subsequent week. The below table provides a detailed look at emission rates from Aug 1 to Sep 4.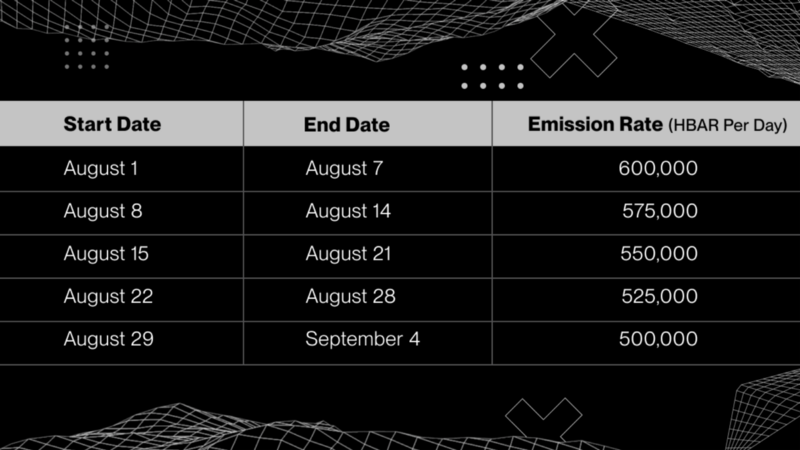 Emission rates for September 5th and beyond will be announced in the second half of August.
We are committed to providing the best yield, without security compromises, on our users' HBAR and will be announcing new DeFi integrations and product features to achieve the same.
Once again, thank you to the HBARbarians community for all the support and suggestions and we will be back with more announcements soon.