#HBARbarians, #StaderFam
Our liquid staking solution on Hedera, HBARX has had unprecedented success, with 1.4bn+ HBAR staked, nearly 100k transactions, and 14k+ unique wallets staking through the contract.
All of this would not have been possible without the amazing support of the Hedera community and the vision of The HBAR Foundation to kick-start DeFi on Hedera. Special mention must also go to other DeFi protocols (SaucerSwap, Headstarter, HeliSwap, and many more) building along with us, as it is only with our collective efforts, can we move the ecosystem forward.
As most of you are aware, protocol staking will go live soon with rewards being paid out for staking to particular nodes. HBARX will also integrate with protocol staking, completing the vision that was laid out at the inception of liquid staking.
Revisiting Context
When we started building on Hedera in Q1 2022, the vision laid out for us by The HBAR foundation was clear: Stader's aim was to build the demand side of the staking infrastructure by making users and the community aware of staking along with its benefits. While we carried on with this aim, protocol staking would be built on the network covering the supply side of staking: connecting the staked amount to nodes.
This was one of the reasons we went with a liquid staking model to differentiate from protocol staking and to kick start DeFi activity.
---
What is changing?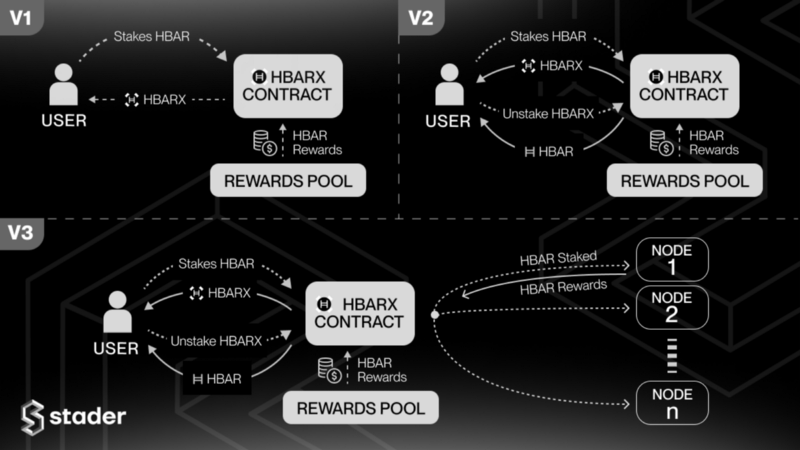 Now that protocol staking is going live, we will complete the transition with the v3 version of HBARX. This means that the rewards for staking your HBAR with Stader will flow, for the most part, through protocol staking.
What does this mean for users?
As far as the user experience goes, not much will change, the flow to stake, unstake and withdraw will remain the same. The exchange rate movement process will also remain the same and existing HBARX users will not have to do anything, their HBARX will increase in value like it always has. Changes are largely at the contract level and how rewards will flow.
How is HBARX still relevant?
Taking a look at different distributed ledger networks (or Blockchains) we quickly realize that native staking and liquid staking exist in almost all major networks. The difference on Hedera is that liquid staking came first and native staking later, while in almost all other networks the chronology has been the opposite. The two products are actually complementary offering a different level of liquidity and yield to users.
The main differences in using HBARX can be summarized as follows:
1. Higher yield through DeFi: HBARX like other liquid staking solutions allows you to earn staking yields as well as augment that yield with participation in DeFi protocols (SaucerSwap, Headstarter, HeliSwap)
2. Securing the network through Decentralization: Instead of staking to one node, Stader will stake the HBAR in multiple nodes, promoting decentralization and hence making the network more secure and robust
3. Lower operational complexity through Auto-compounding: The rewards auto-compounding process will be handled by the Stader contract at a chain level, which will simplify the operations complexity and transaction costs associated with claiming rewards and restaking them
4. Potential tax efficiency: The HBARX token appreciates in value without any new tokens hitting the user's value, making this value-accruing process potentially more tax efficient in some jurisdictions
Disclaimer: Not tax advice. Please consult your tax advisor and do your own due diligence.
No matter which route you choose, we feel strongly that everyone in the Hedera community should participate in staking, thus making the network more robust and secure.
In closing, we would be remiss if we don't acknowledge the role The HBAR Foundation has played in making staking and DeFi on Hedera a reality. We are also thankful to the entire Hedera community for their amazing enthusiasm and continued support for staking, HBARX, and DeFi on Hedera.
As always, please feel free to reach out on our socials for any further questions.