Stader launched its liquid staking solution for BNB on August 5, 2022. It offers $BNB stakers a liquid token named $BNBx.
With the product running in full swing and the team working non-stop to add more features and partner with new projects, Stader has achieved several milestones already.
Here are some highlights.
Launch Highlights
1300+ users have staked BNB already with Stader to date and the user feedback is largely positive.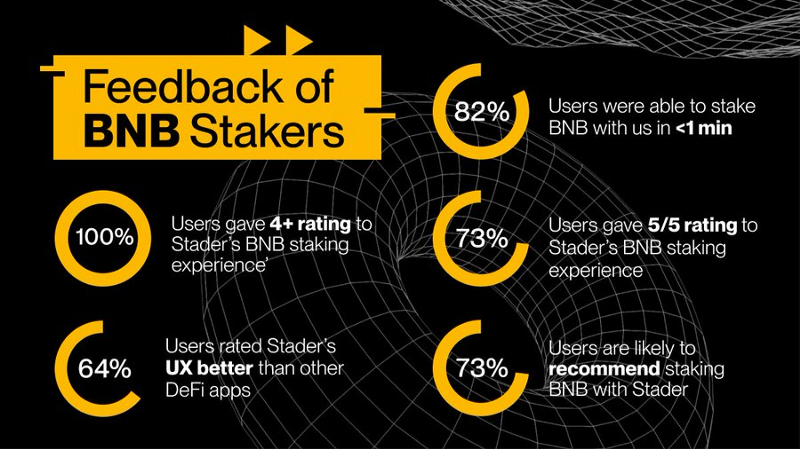 The launch of Stader's BNB solution has gained quick momentum, with the number of staked BNB (and proportional minted BNBx) soaring from day 1.
Stader BNB received an overwhelming response and clocked ~$3Mn TVL on the day of launch
Stader announced extra incentives to boost the staking APYs for its early stakers. Incentives worth $175K in BNB were added in August and another $100K in BNB are emitting as extra rewards in Sept.
As of the date of this article's writing, 40,000+ BNB (worth $11Mn+) are staked with the current staking APY still going strong at 16%+
DEFI
On the DeFi side, everything has been beyond perfect.
Just 6 weeks into the launch, Stader has partnered with 7 DeFi protocols to bring BNBx holders a wide range of DeFI opportunities to earn even more yields on top of staking APY.
There is ~$8Mn liquidity in BNBx-based pools as of the date.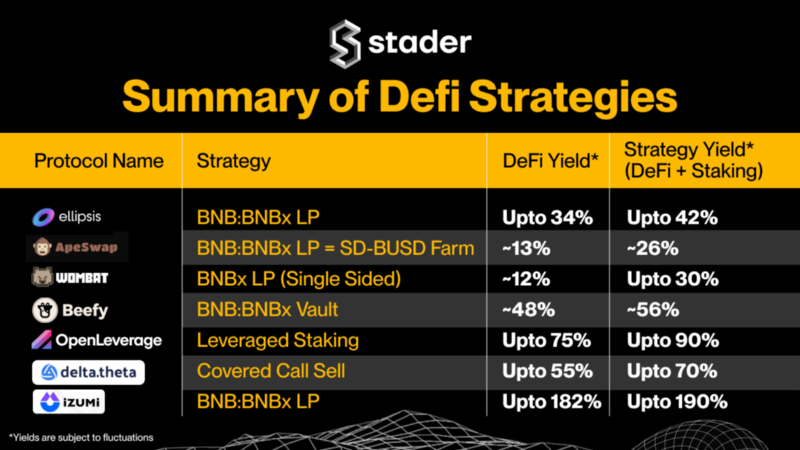 Users can farm yields on BNBx based on their risk-reward profiles across these projects:
1.Wombat Exchange (DEX)
The Wombat BNBx LP will get you up to 15% in pure yield and a total of up to 32% combined in staking rewards and yields.
2. Ellipsis Finance (DEX)
Ellipsis is another of Stader's partner ecosystems where you can use $BNBx to generate rewards.
The yield on Ellipsis can go up to 12% and when you add staking rewards, it can go as high as 21%.
3. Apeswap (DEX)
With ApeSwap you stand a chance to get a total yield of 13% in the BNBx:BNB pool and when you add staking rewards, it can go as high as 25%.
4. iZUMi Finance (DEX)
iZumi is a DeFi protocol providing One-Stop Liquidity as a Service (LaaS). With iZumi, you stand to get up to 70% APR.
5. Beefy Finance (Yield Optimizer)
Beefy can get you 15% in pure yield and a total of up to 23% in staking rewards and yields.
6. OpenLeverage (Margin Trading)
In OpenLeverage, you leverage your capital to take a long position on BNB.
With a maximum of 5.9x leverage, the total yields can go up to 90% with staking rewards included.
7. DeltaTheta (Options strategy)
In DeltaTheta, you do options trading to make a profit out of it.
You can get as much as 55% in pure yield just by selling options. Add to that the staking rewards, and you get ~70% yields.
SECURITY
Security is paramount to Stader. We make sure that the users' funds are safe and free from any threats. Stader is unmatched in our security efforts.
Stader is achieving this by:
Comprehensive review and testing of our code by BNB chain
Regular audits of smart contract
Audited by top firms Halborn and Peckshield
Use of Multi-sig accounts for changing smart contract parameter
Real-time on-chain security tracking by Forta to alert on any threats
WALLET INTEGRATIONS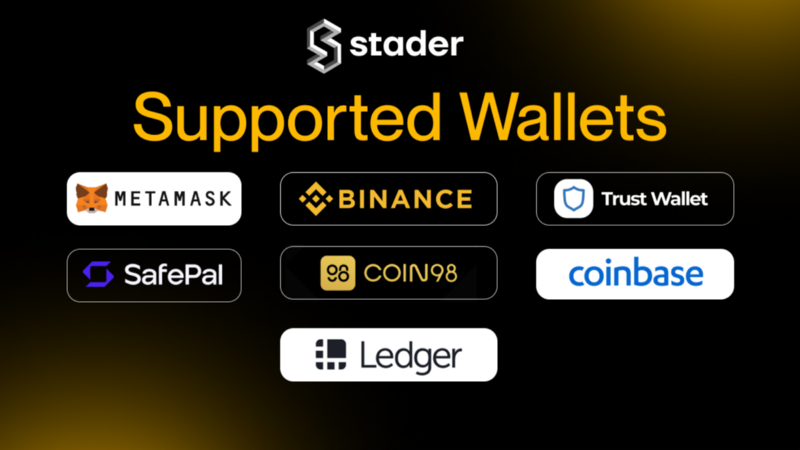 Stader's BNB staking dApp is integrated with a wide range of wallets so that you do not miss out on high yields on your BNB in case you do not have a particular wallet.
MetaMask
Binance Wallet
Trust Wallet (via WalletConnect)
Safepal Wallet
Coin98
Coinbase Wallet
Ledger (via WalletConnect)
BNBCHAIN FEATURED STADER
Stader has featured in the BNB Chain spotlight as well as the list of dApp stars by BNB chain -
https://www.bnbchain.org/ru/blog/bnb-chain-spotlight-stader/
https://www.bnbchain.org/en/blog/9-bnb-chain-project-stars-in-september/